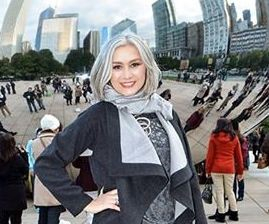 A struggle with greying hair and a chance encounter were the catalysts for Madalyn's reinvention; a week later, she was on the Oprah show.
When did you start to think about charting a new direction for yourself in midlife?
As an award-winning teacher at an inner-city Chicago school, I wasn't really thinking of a "new direction" until I went to my hair stylist. My dark brown hair was turning grey and I wasn't ready for that. My stylist refused to color it; she loved my natural silver streaks, which she said people paid big money for, and convinced me to leave them alone.
Days later, a talent agent at the Ford Modeling Agency stopped me on the street to ask me where I got my hair done because she loved my "highlights." She urged me to go to an Open Call for models the following week, so I took a chance and I did.
Never in my wildest dreams would I have thought I would be modeling at my age and size.
At the age of 50, I was offered a modeling contract. I was floored, really. Never in my wildest dreams would I have thought I would be modeling, let alone for a renowned agency like Ford, at my age and size. It felt like I was on "candid camera."
What is your next act?
I am an exclusive, Classic and Lifestyle model for print, TV and runway. Exclusive means that I only have one representation and when clients call for my "look," I'm the first to be considered. It also means I can get booked directly without having to audition. Classic is a nice way of saying "over 50." Lifestyle is a woman-next-door look that entails bookings for everyday type of work––health care and consumer products, for example.
I was given a contract the day I walked into the agency and I decided right then and there to sign. It was really a no-brainer, knowing Ford's reputation. I didn't have a lawyer look at the contract. I didn't even tell my husband what I was up to that day.
My first assignment was modeling for the Oprah show. I was the only full-figured, over-50-with-silver-hair model she had on her fashion segment and that was 10 years ago. I felt totally outside my element, wearing stilettos (which I had never worn before), lots of jewelry (which I didn't normally wear), and jeans (which I hadn't worn in 20 years).
I was the last model to go out on stage and I panicked. Never having worn the type of clothing and accessories they had me wear, and never having practiced how to walk and pose, I thought my career would be over before it started. I asked one of the older models what I should do and she looked at me in shock and told me to do "what I always did." When I confessed that I had never modeled before, let alone in front of a live audience for the most-watched program on TV, she just told me to be "myself." That, in a nutshell, worked.
I love that, at my age, there is no competition or pressure in the fashion industry to be "perfect."
When I walked out and the lights flashed, cameramen clicking away and the audience roaring in applause (probably because I was the only silver-haired gal in the lineup), somehow I kept it together. Oprah even started a little conversation with me, which I'm told never happens. She asked me how I felt in the clothes and I had to tell her the truth––that I hadn't worn jeans in over 20 years. My stylist on the show, Charla Krupp (renowned stylist to the stars in LA) had a ball talking about me with Oprah. Needless to say, jeans have been a staple in my closet ever since.
You can imagine the children's faces the next day after seeing their teacher on the Oprah Show!
Interestingly, the more silver my hair turned, the more work I got. I love that, at my age, there is no competition or pressure in the fashion industry to be "perfect." I'm booked for who I am and what I look like "as is" –– without having to deny my age.
I'm proud to represent a demographic that is changing society's perceptions of health, fashion, and beauty.
I especially enjoy the runway shows. I love wearing beautiful clothes and getting the audience's reaction when walking the runway. The women in the audience (including their husbands) inevitably stop me after the show to let me know they are happy to see a mature woman model. Those comments always find themselves to the client, resulting in more bookings.
I'm proud to represent the clientele with the buying power, a demographic that is changing society's perceptions of health, fashion, and beauty. We are not only our mothers' daughters; we work, raise our families, take care of our health, and volunteer, while still maintaining our personal sense of style — celebrating age without denying it.
What favorite assignments have you gotten in print, runway, and TV? Any least favorites? 
I did a national print ad for Chase bank. It was quite fun walking into my bank, which is Chase, and getting double-takes from customers. Friends and family from across the US called me to tell me my print ad was in their bank.
For runway, I loved my many appearances on the Oprah show. Working with Rita Wilson (Tom Hanks' wife), who was a stylist on one of Oprah's fashion segments, was my favorite. She was the best! Very sweet, kind, and professional.
I loved the TV ad I did for Kellogg's Special K, which was the first time they used silver-haired talent. It was a little nerve-wracking and fun at the same time since the ad required me to twirl around for what seemed like a million takes. Shooting a Sandals Resorts commercial in Jamaica ranks way up there too.
My least favorite was a print ad I did for a hospital, where I was the patient in a wheelchair. The nerve! Ironically, it paid the best.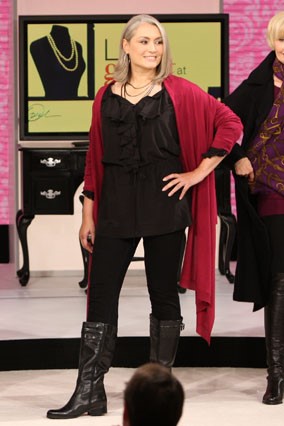 How supportive were your family and friends?
They are ecstatic at my transformation. I was very shy growing up. At 12, I was already taller than my father, which mortified me. I was stopped on the street at 19 to go to New York and model for the Ford Agency, but I was too insecure. Now, I've come full circle. My family and friends can't believe I was once that shy, insecure girl. And for me, it started by letting my hair go natural. Very empowering. Very freeing.
I now belong to a "Silver Sisters" support group, inspiring women to "just be," whatever that may mean, whether it's to choose to ditch the dye, seek another career, or anything else. It's a closed group I became a part of after someone on Facebook sent me a private message to join. Cindy Joseph, a famous NY model, is one of the members, so I said, why not?
What challenges did you encounter? 
I didn't know how to model. I was asked to walk at the Open Call but that was it. I was given no formal training. People––agents and clients—assume you already know what you're doing, which can be a little daunting. On the other hand, the confidence that comes with age is an advantage in this profession. Most people on the set––art directors, photographers— are a few decades younger so I command a certain level of respect. If they only knew I started in this business at 50, I often wonder if I would have been booked at all!
The confidence that comes with age is an advantage in this profession.
I got a lot of tips from women in my category, who had been modeling most of their lives. In fact, I don't know anyone in the Classic Division who started late in the game, like I did. My colleagues, clients, and agents just assumed I had been at it all my life, which is quite amusing to me.
It's hard to work with a crew when they don't quite know what they want. It can also be frustrating to work with stylists and makeup artists who don't quite understand how to work with older skin, grey hair, or my size 10 (which is not the same as a size 10 on a 20-something).
It's challenging to make a good living being a model, but a fun way to make extra cash. It really is a supplement to one's income, unless you live in NY or LA, where there is more work. In Chicago, the going rate is around $190/hour if you're starting out (if you have an exclusive, there's usually a 2-hour minimum), the ½ day rate is around $1500-2500 and the full day $5,000. You could make more depending on usage frequency and medium (online, print, etc.). While these rates are lucrative, keep in mind that there's no telling how often you'll get work. It could be a couple of times a week or a couple of times a month!
I believe I'm at the tail end of my modeling days in the Midwest. Work dies down after 60 unless you're in NY or LA, where the majority of the clients who book for pharmaceuticals and other age-related products are located. We used to be flown to those cities but now, with the economy, this rarely happens.
 I learned that I can do just about anything I set out to do.
What did you learn about yourself through this process? 
I learned that I can do just about anything I set out to do. I also learned — and you may laugh when you read this— that, especially in the fashion industry what you think of me is none of my business. This perspective is rooted in self-confidence. Don't worry about what others think because what they think is only their perception based on their own life experiences and concerns.
What do you tell women who struggle with whether to let their hair grey or color it?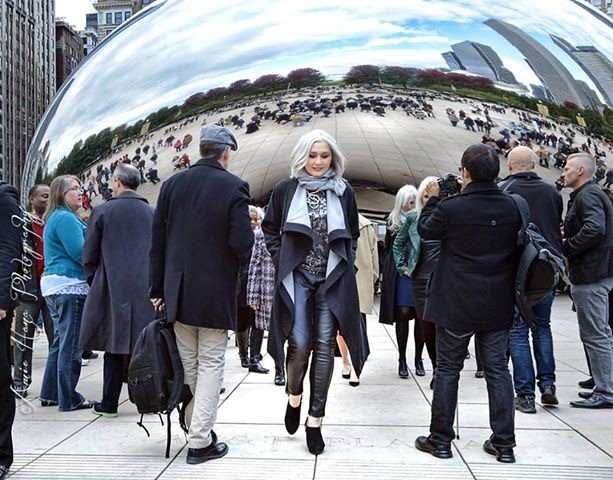 I can say this on behalf of all the women I have talked to over the years: Mother Nature has a way of giving us the "right" color for our complexion. It's rare that natural grey hair doesn't look better than dyed hair. Ironically, taking care of grey hair is very similar to caring for color-treated hair. I stay out of the sun and moisturize it once a week. I use non-sulfate shampoo. To keep it shiny and healthy, I apply extra virgin coconut oil as a mask an hour before washing it (I do this when I go work out).
What words of advice do you have for women seeking to reinvent themselves in midlife, and possibly pursuing your path? 
As cliché as it sounds, I say follow your gut because it will rarely fail you. Believe in who you are, do the necessary legwork, and have a cheerleading squad ready to uplift you when needed. Always surround yourself with those who are positive and willing to help or mentor you.
Follow your gut because it will rarely fail you.
If you're interested in modeling, stay out of the sun, keep your "look" fresh and consistent (your haircut must remain exactly the way the photos are in your portfolio), take care of your skin and hair, and stay fit.
The best way to start out, if you have no experience, is to call modeling agencies in your area and see if they have Open Calls, which are almost always the first step. Some agencies prefer to have you email them a candid photo then, if they're interested, they will call you for an appointment.
Always surround yourself with those who are positive and willing to help or mentor you.
Show up at Open Calls wearing natural makeup and hair, jeans and a t-shirt, and make sure your nails are clean. The idea is simply to show "you." Don't bring headshots if you're a novice. In fact, they prefer to be the agency that "discovers" you. Of course, if you have prior experience, bring your portfolio from your previous agency. The Open Call is over very quickly. You sign in and, within minutes, the agents decide whether or not they want to talk to you about a contract.
When signing a contract, be true to yourself. If you don't want to be photographed in certain attire (bathing suit, underwear, fur, etc.) or you object to promoting certain products (STD treatments, liquor, cigarettes, and such), write that into the contract. Because you won't be given copies of photos from the work you've done, you may wish to add "test shots" to your portfolio. Only work with the photographers your agency recommends; this way you'll get the look they want that meet the needs of their clients.
When you go on auditions, you may be asked to do various things. For example, if you're auditioning for a toothpaste ad, you may be asked to "brush your teeth" while looking into the camera as if it's a mirror. Sometimes, the client will ask you questions just to get a picture of who you are. I once auditioned (and got booked) for a healthcare commercial and I was asked to laugh nonstop. That was a lot of fun!
What resources do you recommend?
For women in midlife:
A Return to Love by Marianne Williamson. It digs deep to the core of who we are. Love is the key in everything we do. It starts with loving oneself; everything else follows.
I also listen to Hay House Radio—Radio for Your Soul. I look at the week's lineup and choose the hosts who resonate with me; I may buy the books by the guest speakers, and even call into the show sometimes.
Dr. Christianne Northrup is the best! Listen to her on Hay House. She is amazing and is the expert on women and the "miracle" of menopause.
For women interested in modeling in midlife:
Model: The Complete Guide for Men and Women, by Marie Anderson Boyd
Modeling agencies I recommend for mature women:
Do you think you have another next act in your future? 
I am studying for my real estate license and am a newly licensed leasing agent in Chicago specializing in the Loop, S. Loop, W. Loop, Streeterville, Gold Coast and River North. This works perfectly with my current modeling schedule.
I always seem to be in the process of reinvention, finding a new path and enjoying the baby steps along the way.